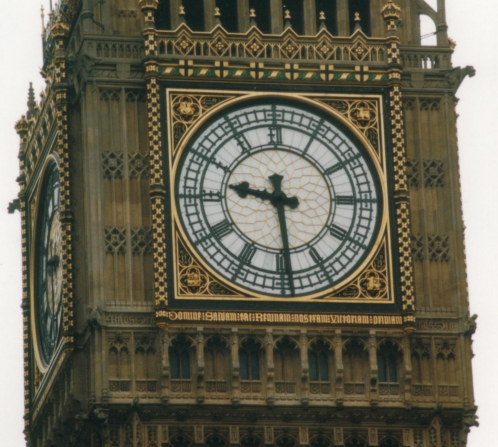 Time works magic on artisanal Cheddars. With its passage, young, milky cheeses mature and become multi-dimensional; complex, lingering flavors that weren't there at inception come into being. In time, large wheels of Cheddar become something much more than what they were when they left their molds twelve months earlier.
Like children, Cheddars depend on grown-ups for their successful maturation and aren't responsible for much on their own. For a year, 25-kg wheels of Cheddar, wrapped up in larded muslin, rest on wooden shelves in a cool and humid aging room. There, their caretakers flip them weekly to distribute evenly the moisture they contain, rub them briskly to get rid of damaging cheese mites, and iron them to see how their flavors and texture are coming along. Every two months, Randolph Hodgson inspects them to see which ones he'll take for his shop, Neal's Yard Dairy, where cheesemongers like me sell them for over 20 pounds sterling a kilo.
Cheese, as with wine, get better with time.
I don't. In fact time and I don't get along at all. I wrestle with it, trying to pin it down, but it slips away and leaves me the loser in my ongoing battle with time.
One of the main reasons I gave up everything in New York City to go travelling for 10 months was to develop a better relationship with time. For over three years, I've mentioned writing a book about Cheddar cheese, but three years on, I don't have anything to show for it. It wasn't as though I didn't have sufficient free time to write it. My job at NYU, when I wasn't meeting a publication deadline, was very much like one in France, a 40-hour work week, with an hour off for lunch. That schedule should have left me plenty of spare time to work on my book, but those chunks of free time whittled away to nothing and, as a result, I got nothing done. I hoped that by leaving my life behind, I would shake up my routine, and time would slow down and let me grab onto it.
This hasn't happened. On my free days from the dairy and in the evenings when I get home, I have a long list of things to do, but very little of it gets done. I start off with high hopes to update my blog regularly, send out proposals for articles about Cheddar, do research about cheese, plan the upcoming segments of my trip, and work on my book proposal. I even had plans, when I first arrived in London, to shadow bartenders at fancy cocktail bars to learn their craft. Usually, I am too tired, too unfocused, or too busy with friends to check these goals off my list. It was very much the same story during those three years in New York City.
I know plenty of other people who could have finished a book in three years. These lucky people have a productive relationship with time, people like Anne, who, in less than a year, presented papers at academic conferences, wrote white papers, made progress on her Ph.D. in food studies, completed book proposals, taught two university classes, ate at every new restaurant in New York City, drank until late at trendy bars, conducted interviews for magazines and a cooking school's newsletter, and started an interdisciplinary institute at the same cooking school. She did all this with grace, confidence, and great success. How the hell did she do this? And there's my American coworker at Neal's Yard Dairy who in her free time improvises dishes with cheeses from the shop, catalogues all the fabric samples she has, affixes labels on every part of her sewing kit, finishes a handbag she designed, consults for bio-tech firms, catches up with numerous T.V. and radio programs, and learns French. How the hell does she do it?
I am not sure what I need to change to make the most of my free time. Perhaps I should have fewer pints of cask ale after work with my coworkers and instead go straight home to write. But Anne goes out regularly. Perhaps I should watch less tennis on T.V. But Loe is always catching up on her favorite programs. Perhaps I should fully take advantage of the free time that presents itself or I should create more free time by sleeping less. But I need the sleep and I am often tired. It's here where time is a great nemesis. The older you get, the more tired you become, especially when you are standing for hours on end behind the cheese counter. This means that in your free time, you want to have something to eat and drink, blob out in front of the T.V., and glance through your emails and friends' updates on Facebook. This is not, unfortunately, how a book gets written.
In one way time has been kind to me. I look young for my age. Few would guess that in three weeks, on December 23, I turn thirty-nine years old. I don't say this to brag. In fact, more often than not, I wish I looked--and acted--more my age. Because I look young, I get treated as though I have less life and job experience than I do. This mistaken youth comes in handy, however, when I am travelling. People don't look at me and think, Who is that old woman selling cheese in a shop for 7 pounds an hour? Shouldn't she have done more with her life by now? As a result, I fit in a bit better with my fellow cheesemongers...and fellow bunkmates at youth hostels.
Oh, how I wish I could just hang out, like a wheel of Cheddar on an old wooden shelf, and let time work for me instead of against me!